In november, in Santa Caterina Foundation, in the city of Imola, took place a simple ceremony for donation of an edge defribillator from APDIC.
The Treasurer Counselor Gabriele Adinolfi informed us of President Armando Luisi message. The association gift the difribillator recognizing the work of Santa Caterina Foundation, which components are called "gospel tiny ones" and suggest to train personnel in the use of the object.
Was there also Giovanni Righi, Lion Club Val Santerno vice president, who has financed training.
And then… a snack for everyone.
In the pictures:
President Renzo Bussi with APDIC Treasurer Gabriele Adinolfi reading APDIC President letter.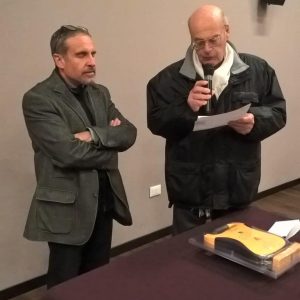 ADIC Treasurer Gabriele Adinolfi with Renzo Bussi – Santa Caterina Foundation President, Giovanni Righi – Lions Club Val Santerno Vice President and Fabrizia Fiumi – Imola Croce Rossa President.